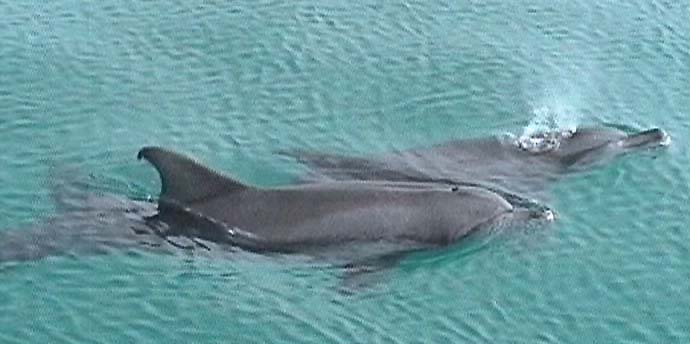 Port Stevens occupies a submerged valley that stretches more than 20 km inland. Although not nearly as busy, it is a larger bay than Sydney Harbour. The Bay is protected and pretty beaches line the shores. As we approached to harbour inlet, the area lived up to its name as the Dolphin Capital of Australia as we were escorted by a group of friendly dolphins.
We picked up a public mooring ball only to be asked to move as the area was being closed for an evening Fireworks display. We happily set our hook in the adjacent bay which afforded a great view of the Light Show that night.
The next day we returned to the beachside anchorage as the one we had been in got too rolly. It was when we decided to take the dinghy to shore that we realized that the outboard motor had not survived the submerging from our knockdown on passage to Coff's Harbour. We could not get it to start, despite Gord's full day attempts at repairs.
Since This Way Up had been so helpful in Coff's Harbour and had invited us to look him up in his hometown of Port Stevens, we gave Dave a call on the radio. He quickly volunteered to pick us up in his car and taxi us around to find a solution to our problems with the motor. Since Citation was anchored next to us, they volunteered to give us a ride to shore.
A New Motor for the Dinghy
Dave met us on shore and we ended up touring all over Port Stevens visiting the Honda dealer and other outboard retail outlets. Enroute we drove past the public golf course and I was delighted to get my first sighting of kangaroos. Apparently they happily live on the greens and can regularly be seen amongst the golfers.
We finally discovered that the Honda motor would cost too much to fix and no one wanted to buy or trade it. Dave suggested we drive to New Castle, several hours away, to visit a Yamaha dealer and perhaps make a deal on a new motor. The drive through the country was lovely and we thoroughly enjoyed his company along with the useful information he provided about the Port Stevens area.
In the end we relinquished our Honda motor and bought a new Yamaha 15 HP. It was a hard pill to swallow at first but we know that we will now have reliable transportation to shore.
We returned to the boat in Nelson Bay and will always be grateful and truly appreciate the outstanding kindness and generosity shown by Dave, giving up his time to help us out. The people of Australia in general have been amazing in their friendliness and outgoing in their bigheartedness.