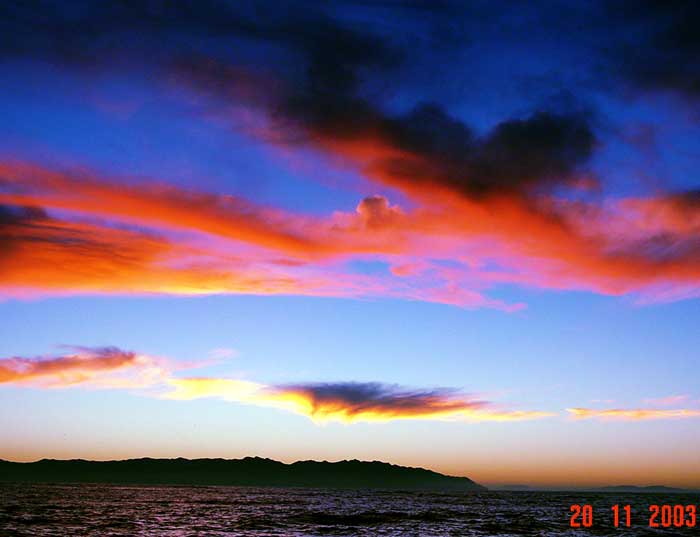 Many of our Canadian friends were anchored here and we were greeted by Gary & Dale on Reaction. They mentioned to us that there was a cruisers' potluck supper on the beach but they were having their fresh fish catch for supper and we decided to opt for the same plan, as we were anxious to taste the Wahoo we had just caught.
Later the guys were getting together for poker on one boat and the gals on another to play hearts. We were very tired from our journey and instead went to bed at 7 pm.
The next morning brought the usual boat repairs. However, this time it was the watermaker that was spewing water all over. Somehow, being in Mexico without a watermaker did not carry much appeal! So Gord set out to take it apart but after 3 frustrating attempts working in the tiny area in the head, it still leaked. The attempted repair had taken him all day long so I was thrilled when Dale & Gary dropped by to see if I wanted to go ashore with them.
Getting ashore was a rather interesting experience. You had a choice of trying to beach your dinghy through the surf, a sure way to get wet, or tie up alongside a very high dock and climb a rickety rusty ladder, barely attached to the top rotting board. We opted for the ladder.
The village was a typical Mexican town, with dirt streets, dilapidated shacks, and immaculately clean children playing in the streets. We wondered around and found the grocery stores (supermarcados) and met other cruisers doing the same. The town seemed to be quite affluent as there were many new and expensive vehicles, mostly 4x4's, driving around the streets.