Our sail to Santa Maria was very boisterous. We had great wind and were able to forego running the engine for nearly 24 hours. However, when the winds shifted and were directly on our stern the ride was rolly, rocky and uncomfortable. We made excellent time under clear skies. On my nightwatch, the stars seemed so bright filling the darkness like popping corn.
November 25, 2003
We saw a few more dolphins and were again given a gift from the sea. This time a 20 pound Skipjack Tuna. We are now getting a lot more proficient at getting these fish onto the boat, cleaned and filleted without too much mess.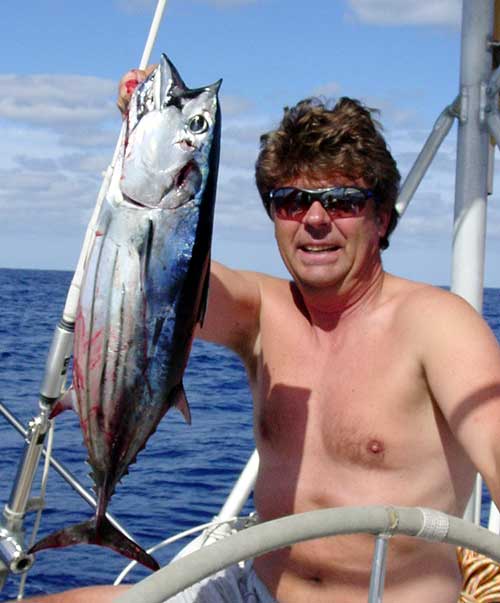 The Santa Maria-Mag Bay area is the calving ground for the Grey Whale, supposedly at this time of the year. We did see water spouts from 2 whales as we were entering Santa Maria so we know they are in the area.
We rounded the point late afternoon and saw a group of boats anchored in the north end of the bay. Bahia Santa Maria is a huge isolated sandy beach about 11 miles long. Each end in bordered by stark rocky mountains but the area of sand dunes in between is barely above sea level.
By the time we arrived at Santa Maria, the rolling seas had taken its toll on my tummy and we had to forego a happy hour invitation on In the Mood who had arrived earlier that morning. Instead we cooked our tuna and went to bed early.
---
November 26. 2003
A bright sunny sky greeted us that morning and we sat in the cockpit drinking coffee and watching dolphins feeding all around the boat! Pangas again came by and offered lobster so we traded another bottle of our Two Buck Chuck for 2 huge "bugs". Buying and selling lagosta privately is illegal in Mexico, so the fishermen don't accept cash. However, they were very pleased with the trade as indicated by their eagerness for a corkscrew to open their wine on the spot. I'm sure the bottle was empty before they hit the shore.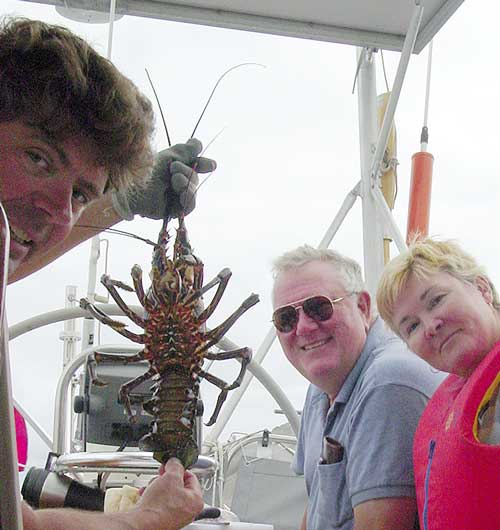 Dale and Gary dropped by the boat for lunch and invited us to Reaction for an "anniversary" lobster feast. It was exactly 3 months since we had both left our home port to embark on our journey. To date we have traveled almost 1950 nautical miles and both experienced sea conditions far surpassing ordinary cruising sailing, so it was definitely an event worth celebrating.
---