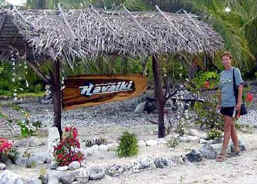 June 20
10 of us gathered at the Havaiki Pearl Farm. The price was $15 each and it included keeping the pearl from the oyster of your choice that you could select from the water.
We snorkeled over the cages that contained the oysters, picking out the string we wanted to take back to the farm. The cages were about 30 feet below the surface so diving down to retrieve one takes some skill. We loaded the string of oysters on to one of the dinghies and head back to the farm.
At the farm we were shown the process of seeding, grafting, washing, collection, etc. We each picked an individual oyster which was opened up to reveal our pearl.
My oyster contained a very unusual creamy coloured pearl, baroque shaped. Gord got the award for best pearl.. a beautiful round black pearl with no flaws (worth about $100).
Gord gave me his pearl and I had a hole drilled in it. I now wear it strung with a leather thong around my neck.
Everyone's pearls were a little different in shape, colour and size. It was quite suspenseful as each oyster was opened.
Once everyone had their pearl, we had to eat our oyster. With a little salt and lime juice, it wasn't all that bad!
Their was a store at the Pearl Farm that sold various pearls loose and set into necklaces, rings and other jewellery. Most of the other cruisers got carried away at his store and bought pearls and jewellery but I managed to restrain myself. Prices in Tahiti are more than double what they were at the farm so some people got really good deals.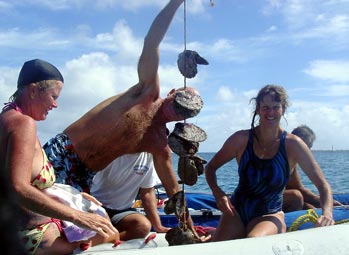 Judy, Dave (Freebird) & Angela pulling up string of oysters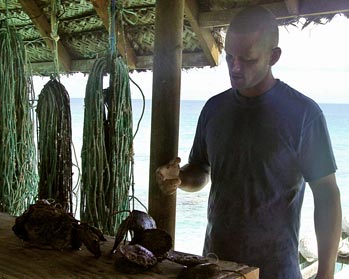 Explaining the process
Gord, Bob, Becky, Doug & Dave display their picks