We arrived in Eureka late at night and are docked in a marina on Woodley Island. Old town Eureka is right across from us with it's Victorian architecture. The showers here are fantastic, and there is laundry facilities, restaurants and shops right at the end of the dock.
First thing the next morning we checked into Customs. The Custom's officer came to our boat and we ended up visiting and drinking coffee for several hours. We were amazed that he was so friendly, out of character for most Customs personnel. He gave us directions to town, told us where to go and even gave us maps and souvenirs of the Town. Later we found out that we were his first boat this year to clear customs so no wonder he had all that time to visit!
We walked to the historic downtown area, owing its charm and fascination to the many Victorian homes which are a legacy of the lumber baron era. I was happy to see my first palm tree which made it seem like we really were finally south!
Pictured here is Carson Mansion, an example of the amazing Eureka architecture.
We visited the Maritime Museum and the curator, a member of the lifeguard auxiliary, told us that Reaction's crew of 4 were airlifted safely off by helicopter. He confirmed that the coastguard reported the sea state to be in excess of the 40 foot high range when the rescue was made. Reaction was recovered the following day, along with the 41 foot Choy Lee. Unfortunately the 60 foot fishing boat and crew were lost at sea and not recovered
We left Eureka at the crack of dawn on glassy calm seas but the air temperature is very chilly (I think I am wearing ALL the clothes I brought). We motored past the salvaged Reaction, tied to the dock. There was extensive damage to the dodger and solar panels. We were certainly relieved that all aboard were safe.
Just before dusk we were visited by a never ending entourage of dolphins and porpoises giving us a great show beside the boat. They stayed with us for about half an hour, thoroughly entertaining us.
---
DRAKES BAY: Sept 6-8, 2003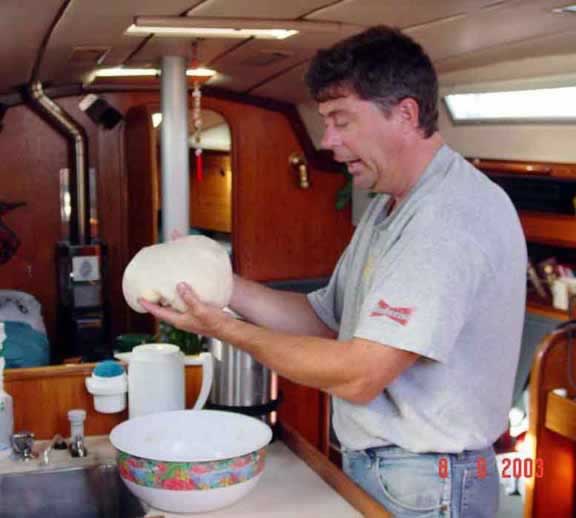 ---