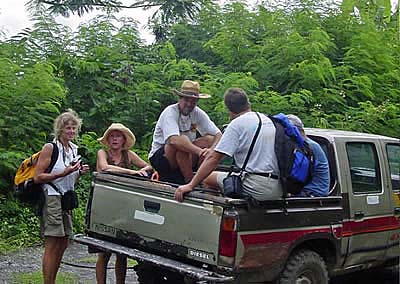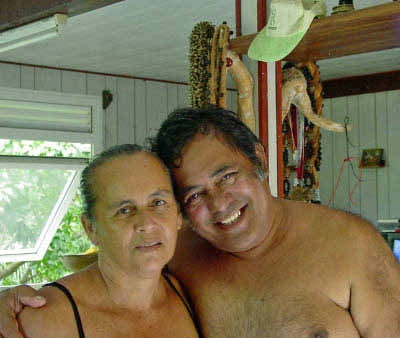 Ettiene, mayor and retired school teacher is well known to cruisers the world over.
May 9, 2004
A group of us (Mag Mel, Solstice and Ascension) went to church. It was a Protestant service and the tiny congregation welcomed us warmly. The ladies were all dressed in their best tropical flowered dresses with black pearl earrings and necklaces and the traditional flowered hair ornaments - and flip-flops, the dress shoe of choice. It is all very exotic.
A few minutes into the service they started to sing and the sound was astounding. Their voices are incredibly strong, amazingly powerful and the harmonizing is unbelievable. We all stared at each other in awe by the beautiful music they made.
After church we were invited to view some local crafts so we all piled in the back of an old pickup truck (that you had to push and pop the clutch to get going) and we traveled up the mountain on a rocky goat trail to a little house. The woman there wove hats and made flowers from tapa cloth she made using bark from breadfruit trees and banyan.