December 8, 2003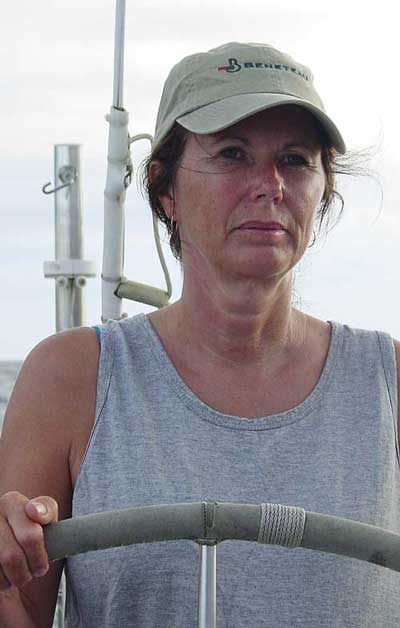 We had a great beam reach sail with Anjuli, (pictured here) Reaction and Ascension basically sailing the same speed the whole way. As we approached Los Frailes, huge manta rays were jumping high out of the water. We also saw the fin of a swordfish and were hoping that it didn't hit our fishing lure.
Matarua was already in the anchorage, which was so rough that they were hobby horsing uncomfortably. We decided to check out another anchorage further north and motored around a large outcrop of rocks, residence of a large number of rays bouncing out of the water, flipping and splashing.
---
CABO PULMO
The anchorage was very picturesque. White sandy beaches and a green backdrop were such a pleasant change from the stark lunar landscape of the Pacific side of the Baja.
Unfortunately the wind shifted and waves built until we decided to pull anchor at 3 am and head back to Los Frailes. After managing to untangle the anchor chain from a chunk of coral on the bottom, we returned to Los Frailes where the conditions were calm and settled and we were able to get some sleep.
December 9, 2003
The following morning, the wind was howling and Matarua pulled anchor to continue on to La Paz. It wasn't long before they returned as conditions were not fun out there. 20+ knots of wind on the nose. So we all decided to wait here and visit the shore.
---
---