August 16, 2005
It was late in the afternoon when we arrived at Viani Bay and just as we were trying to anchor the rain poured down, making visibility impossible. As soon as we backed down on our anchor we knew were were in coral.

We took the dinghy to shore to find Jack Fisher, who has befriended yachties for years and provides all sorts of services to cruisers. We found him hard at work, clearing some property but he immediately stopped what he was doing to visit with us. We gave him some kava and he loaded us up with papaya and banana.

We met the other people in the anchorage including a New Zealand couple on Ylva, whose names were Vicky and Chris (yes, a strange co-incidental combination of names, but ones we will not forget).

Since Vicky and Chris were extremely experienced divers they offered to team up with Gord on a dive, accompanied by Jack Fisher, who would show us the location of the sights.
I must say it was somewhat nerve-racking anchoring the yacht so close to the pounding reef and we were glad we hadn't taken our boat. Once secure, we got in our dinghies and motored to the outside of the reef. Gord, Vicky and Chris got their gear on and jumped in disappearing below the surface. Lydia, Tiara and I snorkeled but the shelf was uninteresting.

The strong current made the dive unsuitable for a beginner but proved to be a wonderful adventure for Gord, Vicky and Chris, all very experienced divers. The Purple Wall displayed an array of soft and hard coral, all shades of purple. After swimming through a cave, they immerged onto the Great White Wall finishing their tank of air.

Vicky and Chris have 5 tanks on board and generously agreed to give Gord one of their tanks so they could all go on another dive. This time we took Ylva around to the outside of the reef and anchored on a sandbar. The dive was on a point, and turtles, a huge array of fish and a gigantic shark were spotted.

After we returned to the anchorage, Jack helped us to unwrap our chain from around the coral bombies and we tied up to a mooring ball in front of Jack's house.
TAVEUNI AND TAVORO WATER FALLS
August 18, 2005
We awoke to pouring rain, the anchorage pretty much socked in so thought that we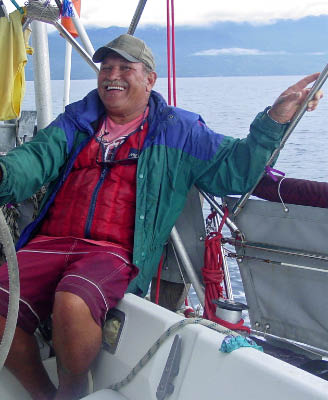 would cancel our plans to take Ascension to Taveuni with Jack. We had agreed that he would come with us across the straight and watch our boat and dinghy while we boarded the bus to the Waterfalls.
However, 7 am, there was Jack in his little boat with Tiara and Lydia, all set to go! He was optimistic that the rain would stop soon. We motored across the channel, Jack (pictured right) knowing exactly where the track through the reefs were. It was still drizzling when we approached Taveiuni but our spirits were lifted when a group of dolphins escorted us into the bay, jumping and showing off for us.
---