Aug 5, 2005
We left Yadua and experienced a lumpy ride with strong winds, and hence we were making no headway. So we altered our course and went North, hoping to find a sheltered anchorage and perhaps meet up with Billabong. It turned out that we were only able to talk to Billabong on the radio but we found a very sheltered dead quiet anchorage and had a good sleep.
Aug 6
The wind up the nose (again) to Nabouwalu Wharf. But when we got there it proved to be very protected and we weren't disturbed by any ships. Left early the next morn.
Aug 7
It was a tiring beat to weather. We worked hard to get to Savusavu before dark. As is usual when the conditions are adverse to dealing with a fish, we caught a Walu. Just before dusk, we tied up to a mooring ball in the anchorage at Savusavu in front of the Yacht Club.

SAVUSAVU
Aug 8, 2005
Savusavu proved to be a pretty spot with a nice little one street town that had lots to offer. The Copra Shed Marina was a great source of information and really caters to the yachties. After a relaxed check-in, I dropped off laundry, and went shopping. We enjoyed a curry Indian lunch, much cheaper than in Lautoka or Suva. To Gord's delight, beer was $2.50 or less! ($1.75 Cnd)
As we were cruising the street downtown, we noticed a crowd gathered near the sidewalk gazing into a trench being dug for a waterline only a few meters from the main road. Upon closer inspection we realized that the workers had uncovered the remains of 2 humans along with other miscellaneous bones. We watched as they carefully unveiled a skull that had been lying for years only a few feet under the hustle and bustle of Savusavu in a very shallow grave.
Before long some police arrived but they encouraged passer-bys to duck under the 'crime scene' tape to have a look. One official we talked to thought that the bodies likely belonged to an ancient village that was once located on the site where Savusavu is now. Someone else theorized that the remains were as a result of a measles epidemic many years ago.
August 9, 2005
Curly's Cruising offers all sorts of organized activities and seminars for the cruisers. They are a great source of info and give lots of ideas on what to see and do around Savusavu. After a couple of hours on the internet ($10/hr) to catch up on the website, we took in a seminar about navigating the reefs around Savusavu.
August 10, 2005
Wild Bus ride to Labosa
We hoped on a Bus to join in on a trip to Labosa with 55 other cruisers from the NZ-Tonga-Fiji rally. There were really a crazy bunch. Curly took us inland across Vita Levu along a rough and bumpy road, stopping every so often to give us stories about the history, culture, fauna and economic situations in Fiji.


We stopped at a coconut plantation and processing plant. Apparently because the coconuts do not bring enough money to warrant maintaining the plantations, Fiji does not export as many coconut products as they once did and the economy is suffering as a result. Hybrid trees have been introduced but fail to meet production requirements.

The vegetation was very interesting and we noted that the island was covered with vines, brought to Fiji by US armed forces for camouflage. They now threaten to choke out the native growth in Fiji.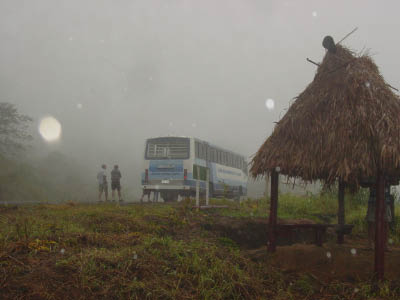 South side of the island, the cloud and drizzle kept me from photographing much scenery. We climbed to 3500 feet where pine trees dominated the countryside, yielding to a drier climate as we descended into the north side of the island. There, an abundance of abandoned sugarcane fields made reminder of the 2005 Coo when the hard working Indians either fled Fiji or were not renewed their leases to work the farms. As the Fijians themselves are not all that inclined to work the land, the country has suffered considerably.

Several hours later we reached Labosa, where we got the chance to walk around the city. We did a bit of shopping then had lunch at an Oriental Restaurant with another couple we had met on the bus.
Sugar Cane Lane
On our way back, the bus swung by the Sugar Mill where miles and miles of trucks loaded with sugarcane waited for their turn to unload. We were told that this wait was often 2 days, where the drivers would eat and sleep in their tractors or truck to be assured of their place in line. It seems that the sugarcare industry is not any more lucrative than the coconut industry. It takes 4 workers a day to cut and load one truck. They are each paid $10. Then after the long drive to the mill (sometimes from neighboring islands by barge) and a 2 day wait, the cane is unloaded for a price of about $150F per ton (a truck holds between 3 and 5 tons).