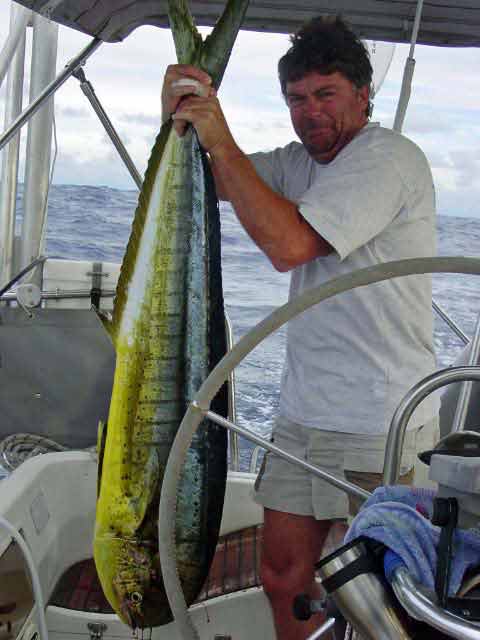 May 9 - 16, 2005
We had a relatively good passage to Fiji, which took 7 1/2 days from Opua, New Zealand to Suva, Fiji. We skirted 2 very significant lows that were building on either side of us so we altered our course to avoid any adverse weather resulting from them. We were traveling with Stardust, Magmel, Endless, Freebird and Billabong. The first few days of the passage were uncomfortable in the very rough unsettled seas but we had good winds so made great time.
We were fortunate enough to catch a huge Mahi-mahi, 62 " long and the largest fish we have ever caught to date. It was far too heavy to even lift for a picture! It filled our freezer and we enjoyed fish for months to come.
Unfortunately, it was also the cause of our first medical onboard casualty when Gord sliced open his finger while filleting the fish. After debating whether to get out the needle and thread, we decided to try butterfly sutures, a lot of antiseptic, a finger splint, and a regime of oral anti-biotic. There is always the threat of staph infection at sea but, I am happy to say, the finger healed up really well with no complications.
---
---
We arrived in Suva Harbour and anchored amidst derelict fishing boats and ships. The holding was very sloppy so it took several tries to get the anchor to stick. When we brought it back up a few days later, our anchor was covered with plastic garbage bags, fishing line and goopy mud.
We headed to town for all the check-in procedures, then a walk around the city. Suva provided us with all the amenities as far as shopping and the Suva Yacht Club was a nice spot to hang out. We stocked up with groceries, books and other items before heading off again toward Vuda Point.
It was an overnight sail to Vuda Point, fast with the wind on our stern and we arrived at the pass just as the sun was rising. We were able to secure a berth at Vuda Point Marina, which was really just a stern-in tie up to a cement wall inside a tiny protected man-made harbour.